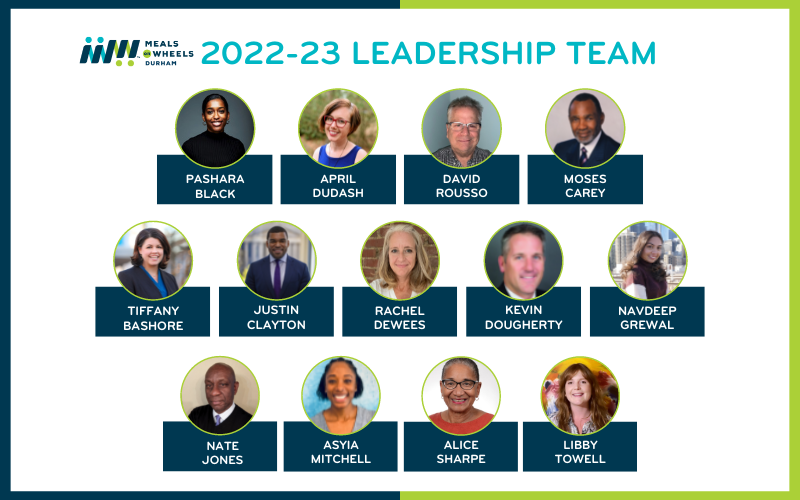 Meals on Wheels Durham is pleased to announce its Board of Directors for 2022-2023. As of July 1, Pashara Black, Campaigns Manager, Egnyte, will serve as President, April Dudash, Communications Manager, Duke Regional Hospital, as Vice President, and David Rousso, Entrepreneur, as Treasurer. Moses Carey Jr., Immediate Past President, will retain his position on the Board as a trustee. 
Returning for another term is Kevin Dougherty, who also chairs the Fundraising Committee. The nonprofit has added eight new members to its Board of Trustees, including Alice Sharpe, Asyia Mitchell, Justin Clayton, Libby Towell, Nate Jones, Navdeep Grewal, Rachel Dewees, and Tiffany Bashore. Monique Alofoje and Chris Knutzon from Duke University's Fuqua School of Business have joined as non-voting members.
"We are extremely humbled to have such a diversely talented slate of board members to help chart the future course of the organization," said Jason Peace, MOWD's Executive Director.  "Each of these board members are passionate and committed to the success of Meals on Wheels Durham and the Durham community at-large. We are excited to continue the work that makes such a positive impact on the lives we are committed to serve."
Ms. Black, a Triangle Business Journal's 40 Under 40 award recipient, works as campaigns manager at software company Egnyte, where she focuses on deploying multi-channel marketing content. She is an alumna of North Carolina A&T State University with a B.A. in International Studies. She is a Certified Meeting Planner (CMP) and recently completed UNC-CH's Digital Marketing Bootcamp. She also served as a community economic development volunteer in the Peace Corps along the Caribbean coast of rural Colombia.
Ms. Dudash learned about the work of Meals on Wheels Durham (MOWD) while serving as communicator and employee giving campaign co-manager for Duke University's Office of Durham and Regional Affairs. She fell in love with MOWD's mission and joined the Board of Directors in 2018. Since that time, she has served as Secretary and on multiple committees. April is currently pursuing her MBA from Elon University and holds a BS in Journalism from the University of Florida.
Mr. Rousso is active in the not-for-profit sector in the Triangle.  He serves on the boards of Meals on Wheels Durham, Boomerang Youth, and Judea Reform Congregation. He currently leads efforts to resettle Afghani refugees in Durham and surrounding communities. In addition, David leads a development effort to repower diesel school buses to run on batteries. Prior to moving to Chapel Hill from the Chicago area five years ago, he owned an IT consulting company and served on several boards.
Mr. Carey earned his BS degree in Health and Physical Education at Fort Valley State College (now University) in Georgia in 1967 and a Master's degree in Public Health Administration at the University Of North Carolina School of Public Health in 1972. He earned a Law Degree at North Carolina Central University School of Law in 1980 and became a member of the North Carolina Bar Association in 1981. He served as executive director of Piedmont Health Services, Inc. for 18 years until he retired in December 2004.
Mr. Carey was elected to the Orange County Board of County Commissioners in 1984 , on which he served for 24 years. In 1993, he was elected President of the North Carolina Association of County Commissioners.  He was the first African American to serve in this role.
To learn more about MOWD's leadership team, visit www.mowdurham.org/meet-our-board.
Meals on Wheels Durham is an affiliate, nonprofit organization of the Meals on Wheels America network and serves clients in need in Durham, North Carolina. The organization's mission is to enhance the quality of life for seniors, persons with disabilities, and other homebound community members by delivering meals, providing social and safety check-ins, and offering other complementary services such as pet food, holiday gifts, and more.