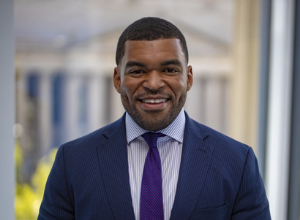 Trustee
UnitedHealth Group
Justin Clayton serves as Vice President of External Affairs for UnitedHealth Group (UHG) based in Raleigh, NC. In that capacity, Justin is responsible for developing and implementing his company's advocacy and growth priorities before state government leaders and influential third parties in North Carolina and South Carolina. Prior to his role with UHG, Justin held positions with Governor Cooper (NC) and on Capitol Hill in the offices of Rep. GK Butterfield (NC-1), Rep. Eddie Bernice Johnson (TX-30) and the late Sen. Kay Hagan (NC).
Outside of his professional life, Justin has a passion for working with young people and helping to ensure their future success. He serves on the board for the Alexander Family YMCA, a full circle experience for Justin, who grew up attending camps and after school programs at the YMCA as a kid. Justin also serves as a founding member of the Southeast Raleigh High School Alumni Association. In addition to his youth engagement, Justin serves on the board of Eustress, a Charlotte-based nonprofit committed to raising awareness of mental health in the Black community. This group is near and dear to Justin, who has worked to prioritize mental health in his own life and hopes that open conversations will continue to destigmatize this topic among his peers and broader community.
A Raleigh native, Justin is focused on helping to ensure that the Triangle's economic boom is equitable and inclusive and has invested in black-owned, locally based startups to further that mission. Justin received his undergraduate degree in Political Science and Public Policy from the University of North Carolina, and his law degree from American University, Washington College of Law. In his free time, Justin is usually cheering on his Tar Heels, testing out new recipes on the grill for his fiancée, Alexandra, or chasing their puppy, Quincy.