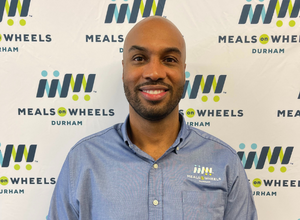 Executive Director
919-667-9424
jason@mowdurham.org
Jason Peace began his role as Meals on Wheels Durham Executive Director on April 1, 2020. He has worked at BrightSpring Health Services in Raleigh for 17 years, starting at the human services provider as a clinical supervisor in 2003. During his time there, he specialized in connecting Wake County residents with intellectual disabilities to home- and community-based healthcare services. He worked his way up to executive director in 2014, providing strategic leadership to 21 facilities and more than 250 staff members, as well as overseeing more than $10 million in annual revenue.
Peace received his master's degree in social work from the University of North Carolina at Chapel Hill in 2011, along with a certificate in nonprofit leadership. He grew up in Durham and attended Northern High School.
Peace also serves on the Board of Directors at Meals on Wheels Durham.