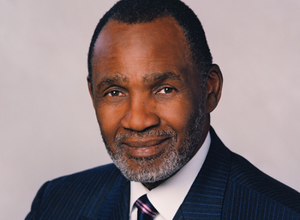 Immediate Past President
Moses Carey Jr. grew up in Tampa, Fla. and has resided in Chapel Hill and Durham since 1971. Moses graduated from Middleton High School in 1963 after playing football for the Tigers and attended college on a football scholarship. Moses earned his BS degree in Health and Physical Education at Fort Valley State College (now university) in Georgia in 1967 and a Master's degree in Public Health Administration at the University Of North Carolina School of Public Health in 1972. He earned a Law Degree at North Carolina Central University School of Law in 1980 and became a member of the NC Bar in 1981. He served as executive director of Piedmont Health Services, Inc. for 18 years until he retired in December 2004.
Moses was elected to the Orange County Board of County Commissioners in 1984 and served for 24 years. In 1993, he was elected to serve as the President of the North Carolina Association of County Commissioners.  He was the first African American to serve as President of the association.