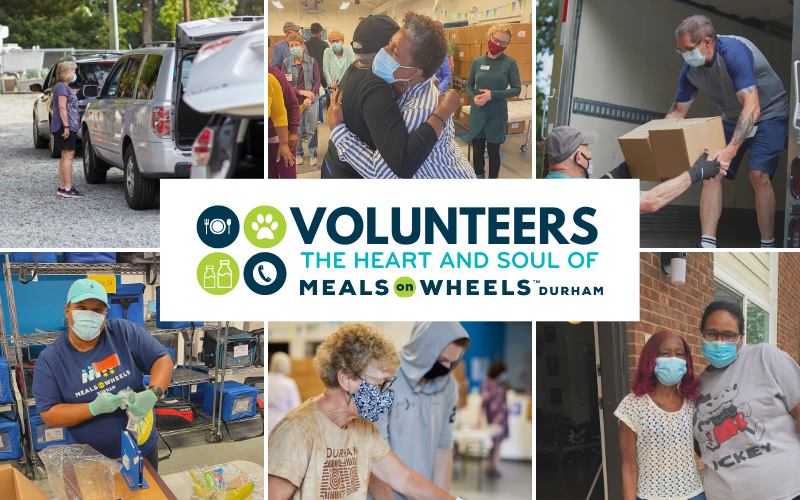 April is National Volunteer Month, and Meals on Wheels Durham is thrilled to take the opportunity to honor its extraordinary volunteers.
Throughout the month, we will celebrate our volunteers with weekly gift card giveaways, volunteer highlights, and homemade baked treats. And at the end of the month, Meals on Wheels Durham will host its first-ever Volunteer ExTRUCKaganza on Monday, April 25 in the office parking lot. Volunteers can look forward to food-truck treatery, free swag, and fun! Food trucks will be open from 9 - 10:30 am for Monday volunteers and 10:45 am - Noon for all other MOWD Volunteer.
"Since I joined the MOWD team in October, I have been mesmerized by the dedication and passion that MOWD volunteers radiate," said Rena Fraade, Meals on Wheels Durham's Volunteer Services Coordinator. "MOWD volunteers are the folks who embody our motto 'More Than A Meal' and make the magic happen. The MOWD staff is honored to celebrate them this month and celebrate them all year long!"
Volunteers are the heart and soul of Meals on Wheels Durham and are considered the backbone of our operations. Every weekday—rain or shine—volunteers handle meal organization in the building, load volunteer vehicles with hot and frozen meals, deliver vital meals and items, and make meaningful connections during twice-a-week wellness calls to our older-adult, homebound clients.
In addition to coordinating meals, volunteers help alleviate the feelings of loneliness and social isolation experienced by many seniors.  They provide a friendly greeting and discrete check to be sure each client is safe and healthy.
So far this year (2021-22), 600 volunteers have delivered over 130,000 items—including meals, nutritional shakes, pet food, face masks, birthday cards, doorbells, and more— and have logged over 36,000 wellness calls to nearly 700 senior Durhamites!
None of what we do at Meals on Wheels Durham is possible without the hundreds of truly dedicated, hard-working volunteers who generously give their time, talents, and resources to fulfill our mission— demonstrating that together, we can make a difference.
Learn more about our volunteer opportunities, sign up to volunteer, or contact our Volunteer Services Coordinator to find out more about MOWD's appreciation month.
Follow Meals on Wheels Durham on Facebook and Instagram, and join our newsletter, to stay up to date on all the ways MOWD is celebrating its volunteers this month.