Stay up to date on the latest volunteer engagement news, updates, events, and volunteer opportunities.
New Hot Meal Routes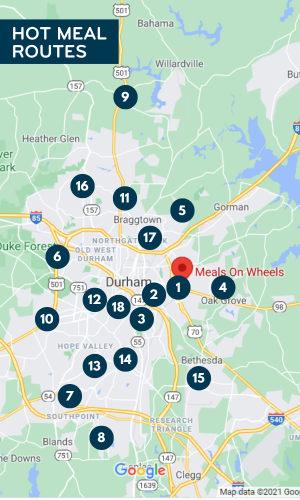 Meals on Wheels Durham is adding two new routes: Route 17 (North Durham, Braggtown) and Route 18 (downtown, NCCU area). We have also optimized client lists for Routes 1-16 to minimize drive time and mileage. View route descriptions and maps here.
---
thanksgiving meal delivery
Join us for a heartwarming morning of giving back! Every year, Meals on Wheels Durham teams up with The Durham Rescue Mission to deliver scrumptious, hot Thanksgiving meals to MOWD clients. This November 23rd, gear up for a morning filled with gratitude, love, and a dash of holiday magic. It's the perfect chance for families, friends, or coworkers to bond while giving back to the community.