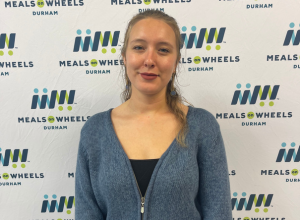 Client Services Coordinator
919-230-7835
nora@mowdurham.org
Nora is passionate social worker committed to empowering marginalized communities. Born and raised in Chapel Hill, she obtained her Bachelor's degree in Social Work from Indiana University in 2019. Nora later achieved academic excellence, graduating Summa Cum Laude with a Master's degree in Social Work from North Carolina Central University in May 2023.
In addition to serving as the Client Services Coordinator for Meals on Wheels Durham, Nora is also the Program Coordinator for NAMI Durham. Her dedication revolves around promoting mental wellness, advocating for equity and access to essential resources, and fighting for racial justice.
During her leisure time, Nora loves to cook, sing, listen to R&B, joke around, practice her Spanish with Duolingo, hang out in the Cabana (her and her boyfriend's back deck), and spend time with loved ones.