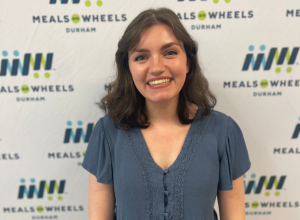 Volunteer Services Coordinator
919-230-7843
madison@mowdurham.org
Madison began working as the Volunteer Services Coordinator at Meals on Wheels Durham in May 2023. She is in charge of onboarding, training, scheduling, and supervising all volunteers. Before working with MOWD, she completed her Master's of Social Work at North Carolina State University. As a macro social worker, her career is focused on program management, policy advocacy, and community engagement. Madison is passionate about mitigating food insecurity and other social issues by really knowing the populations who experience the issues and meeting them where they're at.
She previously worked with the National Association of Social Workers North Carolina Chapter managing their Student Liaison program, conducting program assessments, and producing advocacy resources for social workers and social work students across the state. Madison also worked with the NC Council of Women & Youth Involvement under the state Department of Administration to advocate and provide services for individuals experiencing human trafficking, domestic violence, and sexual assault. 
Madison grew up in Burlington, NC, but obtained her BS in Psychology from Brigham Young University in Utah, where she minored in civic engagement leadership, sociology, and Latin American Studies, and graduated summa cum laude. While in Utah, she worked with several small, local nonprofits to manage and recruit volunteers, create volunteer training programs, and write grants, and was the Managing Editor of a social issues reference journal. 
In her free time, Madison loves to read, go on hikes, do yoga, and travel (she lived in southern Brazil for a few years and is fluent in Portuguese)!