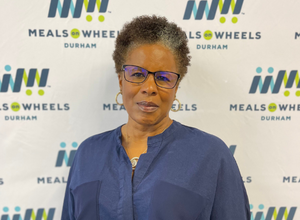 Director of Community Engagement
919-230-7831
annette@mowdurham.org
Annette began her journey with Meals on Wheels Durham (MOWD) as a volunteer. She officially joined the staff in 2014 and currently serves as the Director of Community Engagement.
Prior to MOWD, she was the Vice President of Human Resources at Qualex, Inc. a subsidiary of Eastman Kodak Company and after 30 years of service, retired early in the summer of 2011. 
In her current role, she is responsible for working collaboratively with and through groups of people and organizations.  Her focus is connecting the organization with community partnerships and building strategic support with local companies to support the vision of MOWD. Her favorite part of the position is being out and about in the community speaking about the MOWD Program and its mission to enhance the quality of life for seniors, people with disabilities, and other citizens in our community who are unable to provide proper nutrition for themselves. Furthermore, Annette currently sits on the Board for Meals on Wheels North Carolina and is a Steering Committee Member for Durham CROP Hunger Walk.
Originally from Rochester, NY, Annette holds a Bachelor of Science in Business Administration - General Management from Rochester Institute of Technology and a Master of Science in Leadership and Organizational Development from Pfeiffer University.
Her belief that food is a basic right and not a privilege fuels her passion for making a difference in the lives of our clients.